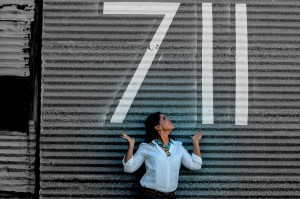 The last few months have literally been a whirlwind.   I have thought about writing this blog so many times and this is the first chance I have taken to sit down and actually write it!  I am writing today to announce the Grand Opening of the second Dee Dee Style location.  The second location will be at 105 S San Jacinto, downtown Rockwall, Texas.  The grand opening weekend kicks off on Thursday 7/11.  Our summer hours will be Thursdays and Fridays 10 am to 4 pm and Saturdays 10 am to Noon.
Here is a little back story.  The picture above was taken in May 2012 at an old abandoned railroad yard warehouse.  I have no idea what the 7 11 stands for but the photographer (Stay-See Photography) and I thought it made a great back drop.  Little did I know a year later that it would be the perfect representation for the opening of my second location.
Let's go back to May 2013, just a few weeks ago.  This past spring brought an explosion to my business.  It grew from one room in my home to literally spilling out and taking over everywhere.  My house is under construction and this only added to the chaos.  It was not a healthy work environment to say the least.  So my family and I all agreed that I needed a studio space badly.  So on a whim, we started looking one day in early May.  We found a place we now refer to as the "tan shack".   Honestly it was a shack and that is the best description!!  But I would have been delightfully happy there.  That is when God opened a HUGE door of opportunity.  A spot on San Jacinto opened up.  It had already been rented and the renters fell through…there wasn't even a for rent sign up when I called on the property.  It was the perfect size, the perfect location, and the perfect price and the bonus was that it was on the downtown square which would allow me the opportunity to have a boutique space as well as move my studio out of my house- WOO HOO!!!!
So now let's go back to May 2010.  I had just started Dee Dee Style in February 2010 with an idea and a dream.  May 2010 brought the first art market vendor opportunity…guess where?!!  San  Jacinto street!!!  San Jacinto is where I debuted Dee Dee Style for the very first time 3 years ago!!  Amazing, right?!!  It gets even better. My neighbor to the newest location on San Jacinto is Worker Bee Studio, owned by Denise Webb.  She I and were set up next to each other 3 years ago at the San Jacinto art market.  In fact, she is the one that I give credit to on my Dee Dee Style tees.  It was a spin on her most popular item.  She adds barkcloth applique's to her one of a kind pillows.  I asked her if I could borrow the idea and do that on tees.  She said yes and thought it was a cool idea!  Now we are neighbors again!!
So mark your calendars for 7 11 and come check out the newest Dee Dee Style location in downtown Rockwall on San Jacinto!