I started out with very different intentions in writing the blog post this week.  It was going to be about talents that God has planted in each of us.  It took some twists and turns while researching fall fashion trends for 2012.  It morphed into the following.
One of the trends in jewelry is titled  "Crème De La Crème."  According to Rocks Paper Metal "We are predicting a big tone down of the bright color pallet as we make our way into Fall 2012. Neutrals, flesh tones and earthy colors will start to show up in retail stores everywhere."
I have been shopping estate sales and flea markets over the past month gathering beautiful pieces to develop new creations for Dee Dee Style.  After reading this trend report, I discovered that I have some great materials that fit the trend perfectly.  So I got to thinking about peach, and cream, and then peaches and cream together.  All sorts of visuals came to mind.  So today I am sharing a visual feast with you!  I hope your mouth is watering and your heart skips a beat with delight!  Enjoy!
Peaches & Cream was my favorite Barbie growing up.  I did not own her personally but my cousin did and so I got to play with her often!  Isn't she beautiful?!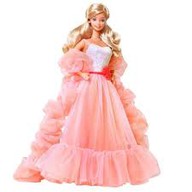 Next, while dreaming about peaches the actual fruit came to mind.  Peaches are my favorite summer time fruit.  I have such wonderful memories as a child related to peaches during the summer-  peach orchards, picking peaches, making homemade peach icecream, and eating peaches straight off the tree!  Oh so delicious!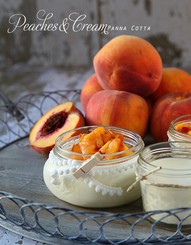 This is making me hungry!  Here is a recipe with fresh peaches that I want to try this weekend- comfort food, easy, and healthy all rolled into one slow cooker!  (SLow Cooker Steel Cut Oats, Peaches and Blueberries, find the recipe here:  Danica's Daily)
Fresh is another descriptive that comes to mind when thinking about peaches.  And when I think of fresh, I immediately think of fresh floral.  Peach roses just happen to be my favorite flower of all time!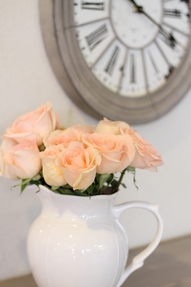 Finally, here is a teaser about the Dee Dee Style jewelry that is in production.  She is going to be gorgeous upon completion!  All elements were purchased searately, but are coming together as though they have lived among each other for ages !
I created a Peaches & Cream board on Pinterest, check it out!