Have you received your party invite to that Ugly Christmas sweater party this year? Well, if so, we have you covered at Dee Dee Style. We have been collecting the originals all year just for you! The originals? Yes, the original ugly christmas sweaters. The vintage pieces from the 1980's -1990's! You know the pieces that we all still love and no new creation can beat! They are so cute that some consider them ugly. But you and I know deep down inside, that they really are precious and can't be beat by any reproduction. They are covered in Christmas characters, jingle bells, bead work, and more items that make them exquisite works of art! Stop in today to check out our collection and get ready for that party.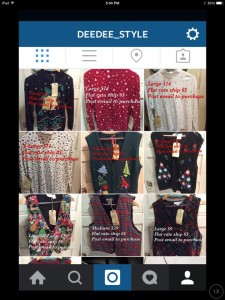 We have posted all of our Ugly Christmas items on Instagram. You can follow us by clicking on this link. You can purchase in store or from Instagram, we ship Nationwide, flat rate $6.
We are open late till 8 pm for Night Owls tomorrow, Thursday, Nov. 12th. Be sure to sign up for our newsletter to stay up to date on store events.
See you soon!