What is washi tape you may be asking yourself.  Washi tape is a fantastic new colorful, super fun and crazy easy product out in the market place that can transform anything especially your craft life!  I was introduced to washi tape by my friend Michael over at Inspired by Charm in this blog post, 10 Inspired Uses for Washi Tape.  Then I purchased my first four rolls on Pick Your Plum.  Then I researched some ideas on Pinterest and was hooked.  My first project was this one.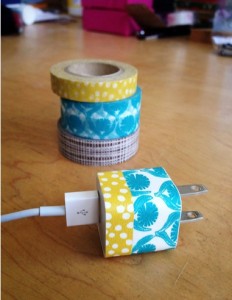 I chose my top 2 favorite tapes and wrapped around the USB charger.  I can't even begin to tell you how easy it is to work with.  There is no way to mess it up- just peel off and start over! (**Note:  the photo above was my inspiration, it is not my actual final project**   Source http://www.coolmomtech.com/2013/04/washi-tape-phone-charger-diy.php)
My next project was a bath room vanity.  The unit was not pretty, but I was not willing to spend any money replacing it.  At first I was going to paint a decorative pattern on the door, but I ran out of time and energy…so I just added two washi tape borders to the door.  I think it turned out great for a quick and inexpensive transformation.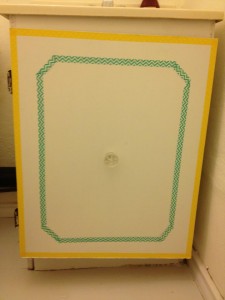 My most recent project is probably my proudest.  I got the idea on Pinterest, OF COURSE!!  I merged several different ideas into one.  Some may say it is too busy, and that is okay, but I love it!  I took 3 washi tapes and created a frame border for my inspiration board above my jewelry work station.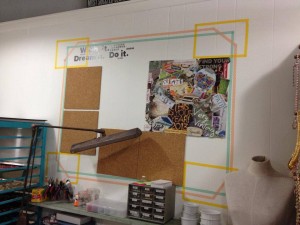 For more ideas and inspiration on what you can do with washi tape, check out my Pinterest board.  I have compiled all of my pins and ideas in this one board, What the Washi?!!
My next project that I am going to tackle is a 3 month calendar wall in my studio to help my team and I stay on top of projects.  Here is my inspiration.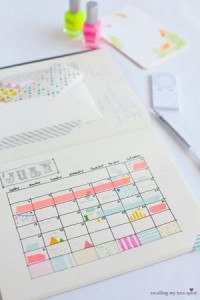 I would love to hear and see what you have done with washi tape, so please share.