Hello all!  Thank you for attending the multitude of events at Dee Dee Style over the past couple of weeks.  The holidays are such a busy time.  I greatly appreciate your attendance and support in business.
On Saturday, December 6th, Downtown Rockwall experienced their first annual all day Christmas festivity!  It was a HUGE success thanks to event coordinator, Tammy Sharp, owner of T&T Color Supply.  It was a brilliant effort to bring 5 different organizations together including the City, the County, the Old Towne Neighborhood district, the Kiwanis Parade organizers and the Downtown Merchants Association.  The day was filled with fun starting with the Christmas Parade and ending with hayrides to enjoy the Christmas lights in the Old Towne Neighborhood.  Two of my favorite events during the day were the Find Frosty Scavenger Hunt (my cheeks hurt from smiling so much at the children's enthusiasm and curiosity!!), and the photo booth back drop.  It was such fun to watch family and friends pose with silly props to create new memories and potential Christmas card covers!
On Thursday, December 11th, Dee Dee Style hosted its second annual Secret Santa "Brewtique" event.  This is probably my favorite holiday tradition at the store.  My husband is simply brilliant and I love to show off his ideas and talents.  I tell him all the time he is such a smarty pants!  This was his idea last summer as we were brainstorming for the store opening.  It is the perfect combination for both genders- shopping and enjoying a beer!  So to recap, in case you have not participated before.  The ladies make their wish list during the months of November and December.  Then their hubbies are invited back on Secret Santa night to conquer that list and have a beer.  Basically the guys tell me their budget, I gather the items, they drink a beer, enjoy some snacks, and the ladies get what they want for Christmas.  I call that a Win Win for all and to all a good night!
On Saturday, December 13, we hosted our first annual Holiday Open House.  We served refreshments and offered a discount of 30% off jewelry.  It was another great shopping day!  Many of you asked for the recipe for the Swedish Nuts that were served, so here you go!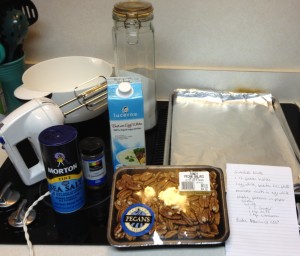 Ingredients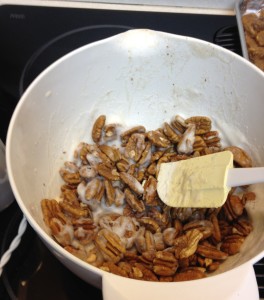 Egg White Coating
Swedish Nuts
(Roberts Family Recipe since 1970)
1lb Pecan Halves
1 Egg White
1 Cup Sugar
1 Tsp Salt (I use Sea Salt)
1 Tsp Cinnamon
Preheat Oven to 250 degrees
Beat egg white till fluffy, Pour in Pecan Halves and Coat pecans completely in egg white fluff
In a separate bowl, mix Sugar, Salt and Cinnamon; Stir with a fork to mix thoroughly; Pour into a brown paper sack
Pour egg white coated pecan halves into paper sack; Shack until thoroughly coated with sugar mixture
Pour onto a cookie sheet ( I use non-stick foil) and Bake for 40 minutes at 250 degrees
Happy Holidays!