What is a "Core"Drobe?  It is a handful of essential wardrobe pieces that every woman should have.  For the past couple of months, I have been brainstorming to really define what is "Dee Dee" Style?  What does that mean?  What does it represent as a term?  As a brand?  I started with descriptive adjectives.  Here is what I came up with:
* Classic
* Timeless
* Chic/Stylish
* Vintage or Vintage Inspired
I developed a Dee Dee Style brand board.  Check it out here.
Next, came the realization that Dee Dee Style is what my style is, what I wear every day.  Pretty obvious, right?!! LOL So with that in mind, there are a handful of pieces that are my go to wardrobe essentials.  My "Core"drobe! Here is the list:
* White Button Up Top
* A great pair or two of jeans- a Boyfriend, and a Skinny
* LBD (Little Black Dress)
* white tee (I have at least five on hand at any one time)   **You can wear it under anything!**
* Denim Jacket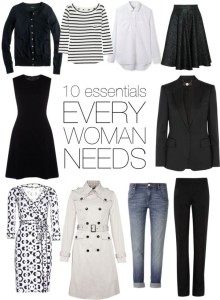 I have also created a "Core"Drobe Pinterest board.  Check it out!
Huffington Post has a great fashion blog section.  Here is their article that they did on the "Core"Drobe.  They describe it as the pieces that  "…should go with everything else."
After brainstorming and defining Dee Dee Style I started with the  introduction of  the Little Black Dress Collection in the stores this past fall.  Every lady should have at least one little black dress on hand in her wardrobe.    Here is my LBD (Little Black Dress) Pinterest board.
This spring I am building on the LBD collection in the store to include many of these essentials including the following:
* basic white tee (super soft, great complimentary fit, perfect for layering)
* jeans- introducing Principle Denim Innovators, made by Red Engine jeans which have been featured in Real Simple, In Style and Elle magazines, worn by celebrities such as  Diane Kruger, Jamie Lynn Sigler,  and Meg Ryan.    Check out their press page for more info.  I am over the top excited to bring in this line and to have it exclusively in the DFW area!!
* more Little Black Dresses, spring inspired styles
* white button up top that will change based on season, but always a great layering piece
* denim jacket
So stop by the store today to start building or adding to your "Core"Drobe!
See you soon!